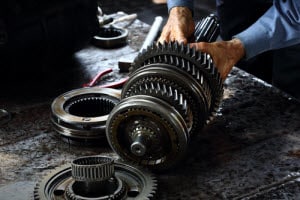 Having any automotive problems while you're driving along the Mission Viejo, Lake Forest, or Aliso Viejo areas isn't fun for anyone. This is especially true when your vehicle's transmission slips gears. Driving around without a properly functioning transmission can be stressful, but to correct the issue, you'll need to find the source of the problem. In this educational article, we're going to provide you with the most common reasons why your transmission is slipping gears. The most common symptoms of transmission slipping gears are:     
Low transmission fluid
          
Worn gears
          
Clutch issues
          
Torque converter problems
Transmission Fluid
One of the most common signs of a transmission slipping and its inability to stay in gear is your transmission fluid. There are several factors that could be the overall culprit. Low fluid levels are the most frequent of any transmission issues. Low transmission fluid levels can result in overheating, or lack of hydraulic pressure to help engage gears. Check the fluid levels to ensure that there's an acceptable amount.
Another transmission fluid issue is burnt fluid. This will be noticeable due to the potent burning smell that follows. If this occurs, you'll have to have your transmission fluid replaced to ensure your transmission can shift properly.
The final issue in this category is the transmission fluid leak. As you read earlier, low fluid levels aren't great for your transmission and can be the reason your transmission is slipping gears. One of the most obvious signs of a fluid leak is the pool of red liquid that collects under your car. This, combined with eventual overheating, is a pretty good sign that you need new transmission fluid, as well as a fix in the leak.
Worn Gears
When you own and operate a car, you can always expect normal wear and tear. Your transmission gears are no different. When they become worn out, they won't be able to link together properly, or at all. Replacing them with new gears will ensure your transmission stays in gear.
Clutch Issues
Clutch Issues are more common with manual transmissions and gear slippage. Over time, your clutch will endure the normal wear and tear, and eventually stop functioning properly. Once this occurs, you'll have to replace your clutch disc.
Torque Converter Problems
This piece of equipment helps convert your engine power into torque, which helps your vehicle perform. Your transmission fluid flows through the torque converter to help it function properly. If transmission fluid fails to get through the torque converter, the low fluid symptoms can occur, resulting in your transmission slipping in and out of gears. Have this system checked by a certified technician to ensure the problem gets resolved correctly.
By reading this article, you learned about some of the most common transmission slipping signs, and why they're causing your transmission to slip gears. Drivers in the Mission Viejo, Lake Forest, and Aliso Viejo areas who are experiencing transmission slippage can always contact us at Norm Reeves Acura of Mission Viejo. We're more than happy to help our drivers correct their automotive issues so they can continue to enjoy the feeling of driving a functioning, and transmission slipping-free, vehicle.