At Norm Reeves Acura of Mission Viejo, we're happy to be the go-to source for Acura vehicles to drivers all throughout the Mission Viejo, Lake Forest, and Aliso Viejo areas. However, we're also a dealership that supplies high-quality used cars to these areas and beyond. Our used car inventory is extensive and diverse, offering something for everyone in terms of style, performance, and efficiency. You can either stop by our dealership, or check these models out with our online used car inventory.
Why Buy a Used Acura TLX
Quality Used Cars and Helpful Customer Service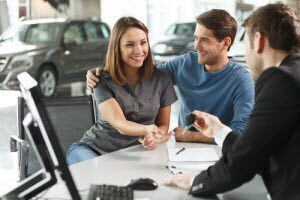 When you're looking for quality used cars, you don't have to scour the entire Orange County area because Norm Reeves Acura of Mission Viejo is here for you. We offer a wide variety of different makes and models you can choose from. All these models can easily be viewed from our website.
One of the ways we try to stand out as a used car dealer is by providing our guests with exceptional customer service. We avoid the stereotypical used car lot tactics, and instead focus on our customers' needs. We'll happily provide relevant information to help you decide on the car that's right for you.
Used Car Service Areas
On this page, you'll see a list of the many towns and cities we proudly serve. Each of these pages begin with a short introduction that highlights the town or city by showcasing some of its appeal and attractions, and possibly even history. We then introduce our dealership and the many services we offer our drivers. To get started, simply locate your community on this page and learn about the variety of services that Norm Reeves Acura of Mission Viejo can offer you.
Do I Need These Pages?
These pages aren't mandatory reading. They're simply here as a guide for people who are actively seeking a reliable used car dealer near their area. However, you can learn a great deal about what our dealership can do for you if you're in the market for a quality used car. Look for your city or town below, click, and find out about all the services we offer, and how we can help you get into a vehicle you love. 
At Norm Reeves Acura of Mission Viejo, we're happy to be the go-to used car dealer for drivers in the Mission Viejo, Lake Forest, Aliso Viejo, and surrounding areas.