Drivers across Mission Viejo, Lake Forest, and Aliso Viejo know that their tires need to be at a certain pressure for their vehicles to perform smoothly and efficiently. However, many factors can affect your tire pressure, which could alter your ability to drive smoothly. So to help you out, we're going to give you some valuable information about your tires.
In this article, we'll go over the different factors that can affect your tire pressure. We'll also explain how to check your tire pressure. By reading this article, you'll know what to do if one of your tires is low on air.
Factors that Affect Your Tire Pressure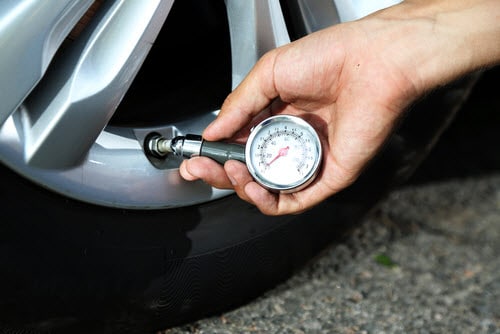 Temperature can have a major effect on your tire pressure. Luckily, living in Southern California provides you with warm weather, so you don't have to worry about cold climate lowering your tire's pressure. However, hot weather can also affect your tires.
When the sun is beating down on the roads and the temperature is rising, so will your tire pressure. Your tires will go up roughly one pound per 10 degrees. It's important to know if your tire pressure is high because if you drive around unaware, your tire could wear prematurely or even burst. It's important to check your tire pressure during hot summer days to ensure that the pressure isn't too high.
Checking Tire Pressure
There are numerous ways to check your tire pressure. You can check visually by seeing how your tire rests on the road. If the bottom of the tire seems like it's wider than the rest, it may mean that the pressure is low and your vehicle is putting a lot of pressure on your tires.
Most vehicles today are equipped with tire pressure monitoring systems. They feature sensors inside the tire to inform you of the status of your tire pressure. If one or more of your tires is low on air, this system with notify you with a dashboard warning light to indicate that your tire is underinflated and requires your attention.
You can also use a tire pressure gauge. However, it's important to know what your vehicle's recommended PSI (pounds per square inch) is. Once you're aware of your recommended tire pressure, remove the filler cap on your tire and screw the gauge in. It will provide you with a readout of your current tire pressure. Keep this gauge handy when filling your tires up at a gas station. You don't want to overfill your tires due to the detrimental effects that it can have to your driving and the well-being of your tires. 
Staying on Top of Your Tires
In this article, we educated Mission Viejo, Lake Forest, and Aliso Viejo area drivers about their tires and how to check their tire pressure. If you notice that your tires are low or damaged, you can always contact us at Norm Reeves Acura of Mission Viejo. We're always happy to help local drivers with their automotive needs. Schedule tire service today.
Find out why your car is drifting and pulling in this article.