Part of owning and operating a vehicle is routinely checking the various systems to make sure the vehicle is functioning properly. One of these ways is to check your fluid levels. People in the Mission Viejo, Lake Forest, and Aliso Viejo areas make a habit of checking their oil levels when they're at the gas station. Checking your transmission fluid is equally important. To help you learn more about this process, we're going to explain how to check your transmission fluid.
In this article, we'll educate you on what transmission fluid does, how to check its levels, and even what to do if the levels aren't high enough. By reading this article, you'll be ahead of the curve on transmission fluid and its appropriate level.
What Does Transmission Fluid Do?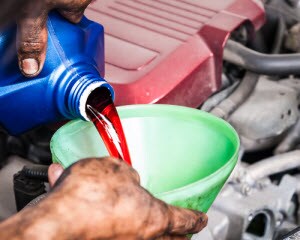 Transmission fluid is much like oil in the sense that it acts as a lubricant for the moving parts in your transmission. It also helps disperse heat, keeping the transmission cool. Transmission fluid actually lasts much longer than your average motor oil. It doesn't require a change as frequently, and can last up to 60,000 miles. However, there are a few factors that could speed up your transmission fluid replacement.
Your transmission tends to get hot, so your transmission fluid helps prevent it from overheating. This is only effective if your transmission fluid is at the proper level. Due to the excessive heat, transmission fluid can break down, or even become dirty. If you notice that your vehicle is on the brink of overheating, there's a fair to good chance that your transmission fluid is the cause.
How to Check Your Transmission Fluid Levels
If you know how to check your oil levels, checking your transmission fluid levels will be a breeze. All you have to do is locate the transmission fluid dipstick. If your vehicle has an in-line engine and is rear-wheel drive, the dipstick will be in the back-left corner of your engine. Front-wheel drive vehicles have the dipstick in the front of the engine, sticking out of the transaxle.
Make sure your vehicle is on and in park. Pull the dipstick out and get some fluid on your finger. It should be a pink/red color, and it shouldn't have any particles in it. Wipe the dipstick and re-insert it.
When you pull the dipstick back out, check to see if the fluid reaches the line marked "Full." If the fluid reaches this marker, then your transmission fluid is at the appropriate level. If the fluid doesn't reach this level, you'll need to top it off in order to have a sufficient amount in your transmission. Be sure to fill it at the appropriate level and don't overfill because the fluid could spill out and burn your engine. 
Now that you know how to check your transmission fluid, you can stay on top of it and make sure that your transmission has the proper amount of fluid to function. If you have any more questions about your transmission and its fluid, contact us at Norm Reeves Acura of Mission Viejo-we're always happy to help drivers in the Mission Viejo, Lake Forest, and Aliso Viejo areas keep their vehicles up to speed.