At Norm Reeves Acura, we think it's important for our customers to know how to properly care for their vehicles. One of the most common issues drivers face is with their vehicle's battery.
In this article, we describe how to safely and effectively check your car battery's voltage. And if you find that you're having serious problems with your battery or vehicle, you can always call us to schedule your next service appointment.
At Norm Reeves Acura, we offer great battery repair in Mission Viejo, CA, for our community along with the communities of Lake Forest and Aliso Viejo.
Before we get started, you'll need to get your hands on a quality multimeter, also called a voltmeter. You can usually find one at an auto center or Walmart.
Step 1: Get the Car Ready
Turn off your vehicle's ignition then pop open the hood and remove the positive terminal cover from the car's battery.
Connect the positive end of your multimeter to the positive terminal on the car's battery. (The color red usually designates the positive ends.) Then attach the negative end of your multimeter to the negative terminal of the car battery.
Step 2: Get a Reading
Allow the car to sit with the multimeter connected for about eight hours before checking the reading. If your car battery is in good shape, the voltage reading should be somewhere in the ballpark of 12.5 volts. However, if you receive a reading lower than 12.4 volts, the car battery needs to be charged.   
Next Steps
After you've had a chance to charge the battery or if you just received a jump-start, you should check the battery voltage again to make sure everything is functioning properly. 


First, make sure your car is idling. This means that the car is on in park and there are no RPM seen on the car's tachometer. 


Now connect your multimeter in the same manner as before, attaching the positive end first to the battery's positive terminal and then the negative end to the negative terminal.
 
Check the reading on your multimeter. If the charging system is working properly, it should produce between 13.5 and 14.5 volts while idling. A reading of below 13.5 means your car's alternator isn't producing enough of a current to charge the battery. This could mean the alternator is damaged or there's a poor connection somewhere in the system.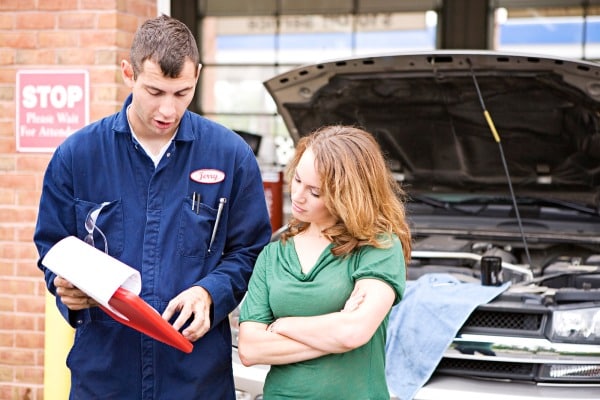 Either way, you'll want to have the car serviced as soon as possible. At Norm Reeves Acura, we'll be able to perform the appropriate services or repairs for your battery. 
To schedule a battery service, call our service department at 888-556-2654. We provide exceptional battery repair in Mission Viejo, CA, for our neighbors as well as drivers from Lake Forest and Aliso Viejo.