Brakes are one of the most important parts of any car. It is very important to make sure that your brakes are serviced as soon as they need to be. If you wait too long, it can end up being too late.  If you're experiencing trouble with your brakes and are in-need of brake services in the Mission Viejo area, contact our team today by schedule an appointment online or giving us a call.
The braking system consists of many different parts, and when all working properly, they work together to ensure a smooth braking system. It begins with the braking fluid that travels through the brake lines when the brakes are pressed. This will then put pressure on the caliper pistons, which will then push the brake pads to the rotors. The pads and rotors make the friction that causes your vehicle to stop.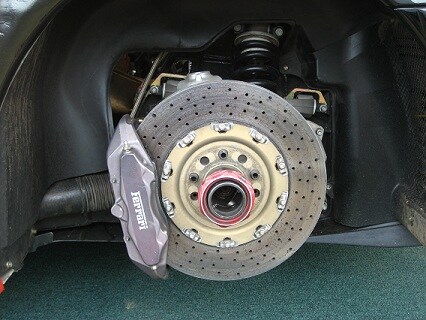 It is very important to change the brake fluid whenever it becomes brown. This means that the fluid has become dirty and needs to be replaced with the clear braking fluid. It is recommended that brake fluid be flushed around the 25,000 mile mark, but it is easier to notice the color of the fluid.
It is also very important to make sure that your calipers do not get rusty. To avoid this, periodic vehicle maintenance is required. It is important to keep the calipers lubricated to prevent the rust. Rust may cause your vehicle to pull to one side, which may cause a catastrophe not only for you but for other drivers on the road. 
Your brake pads may become crystallized from being heated up too much and they can harden. This can prevent your brakes from grabbing the brake drum or the rotor properly. 
Normally this is caused when you overuse your brake at a certain point. Whether you are always slamming on your brakes, or whether you typically hit the brakes excessively, they are both culprits of crystallized brake pads. 
The Acura certified service technicians at our dealership in Mission Viejo are very knowledgeable to the common signs of brake failure and brake maintenance. The technicians are well trained to ensure that your vehicle is safe to drive at all times on the road. Take the next step and schedule a service appointment today.