Whether you've always wanted to learn how to surf, or you've had a long-standing relationship with the board, it's always good to have a spot where you can get all of your gear and apparel. Of course, choosing the right surf shop in Southern California isn't always the easiest endeavor, given the wide variety of places that sell surf-related equipment and clothing.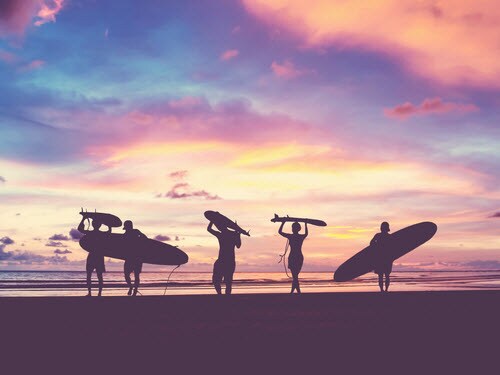 In order to sift through the mass to find the right ones, you'll need a little help. Luckily, we were curious to see which surf shops were favored among the local surfers, so we did some digging and found the best surf shops near Laguna Niguel for you to check out before you hit the waves.
Infinity Surfboards
24382 Del Prado, Dana Point, CA Facebook Instagram
The Infinity Surfboards name has been around since 1970, when the first board was made. Today, Infinity Surfboards is one of the go-to surf shops in the area for their quality boards and accessories. They offer a variety of styles like shortboards, longboards, tandems, and wave skis. You can find different performance-based boards, or even boards with a more classic 1970's throwback style. Be sure to head to their Youtube and Vimeo pages to check out some of their surfboards in action!
Thalia Surf
915 South Coast Highway, Laguna Beach, CA Facebook Instagram
Thalia Surf is one of the more versatile surf shops in the area, because they have a wide selection to choose from. They carry a variety of surfboard brands, as well as necessary accessories like wetsuits, wax, stickers, fins, ear plugs, and even tool and repair kits. You can also get your surf-style at Thalia Surf, because they carry a wide variety of brands like Nixon, Future Seas, Slightly Choppy, Vans, Journeymen, and Deus Ex Machina, to name a few. You can even get vintage surf shirts, music, magazines, and artwork.
Toes on the Nose
276 South Coast Highway, Laguna Beach, CA Facebook Instagram
Did you ever want to see a surf shop that was actually designed and created by surfers? You may want to head to Toes on the Nose in Laguna Beach. Toes on the Nose was designed to showcase the higher end surf and casual wear for all levels of surfer. They have a wide variety of board shorts and performance wear to choose from.
Toes on the Nose also carries an extensive selection of accessories like hydroflasks that'll be perfect for a hot day at the beach. You can also find hats, money clips, wallets, and more. You can also join the rewards program to save on all the latest surf gear that arrives at the store.
Now that you're aware of some of our top picks for the best surf shops near Laguna Niguel, you'll know where to go to get some of the latest gear or some much needed accessories for your board. Hit the shops before you hit the beach to catch your next wave off the Laguna Niguel coast!