Just because you're not in school anymore, it doesn't mean you still can't learn new things along the way. Actually, there are a lot of adult education classes popping up all over the place, so if you're looking to acquire new skills, it's best to see what's happening in your area. Luckily, we did some of the leg work for you and found some of the best classes to learn new things near Laguna Niguel, CA, for you to check out and begin your secondary education.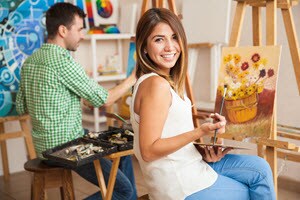 Become an Artist
Have you ever dreamed of mastering the art of painting? We don't mean fences, we mean canvases. Painting is a great hobby to have, but if you need some help staying inside the lines, you may want to check out ARTime Studio in Mission Viejo. This art studio teaches children of all ages, but they also offer classes for adults. You can learn the necessary skills and styles of fine art, become skilled in pottery and ceramics, or strengthen your sketches. Check the schedule to see which class seems like the right fit for you based on your preferences as well as your availability.
ARTime Studio 27001 La Paz Road, Mission Viejo, CA Facebook Instagram
Sharpen Your Culinary Skills
Knowing how to cook is a crucial skill to have. While microwavable mac & cheese and ramen noodles are easy enough, what about learning how to make a gourmet meal on your own? Kitchen in the Canyon is a café that doubles as a home chef school. Whether you want to stop in to sample some of the delicious eats, or you want to learn to make them yourself, you'll certainly enjoy yourself here. Chef Patrick DiGiacomo has a passion for not only cooking, but inspiring others to discover their culinary passion as well. You'll learn techniques and styles while gaining hands-on experience in crafting delicious dishes and flavorful meals.
Kitchen in the Canyon 845 Laguna Canyon Road, Laguna Beach, CA Facebook Instagram
Find Your Knitch
Don't you hate it when there's a tear or hole in your favorite jeans or shirt? Instead of throwing out some of your favorite items in your closet, why not learn how to fix them by taking sewing lessons? Learning how to sew has many benefits. When you become more skilled and knowledgeable with sewing, you can start making your own clothes.
Moore's Sewing Center in Mission Viejo is your destination for sewing machines, vacuums, and ceiling fans, but did you know that they also offer sewing classes? They offer beginner's classes that help you master the needle until you're ready for the more advanced classes, which highlight the cutting-edge techniques and styles that can help you become a gifted seamstress of tailor.
Moore's Sewing Center 25390 Marguerite Parkway, Mission Viejo, CA
If you're looking to learn some important skills, these are the best classes to learn new things that are available to attend in the Laguna Niguel area. Pick the one you're most interested in and begin your journey into your new skillset so you can impress your friends and family.