Drivers across the Mission Viejo, Lake Forest, and Aliso Viejo areas know that an oil change is one of the most important, and frequent, automotive services they need to have performed to ensure their vehicle functions properly. But did you know that the oil filter change is equally important? Some do-it-yourself drivers out there prefer to change their own oil, but to do it properly, you'll need to know the best oil filter brands for your Acura.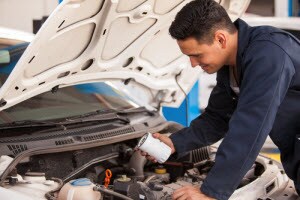 In this educational article, we'll discuss the importance of oil and oil filters, why they need to be changed, and the best oil filter brands you'll need for your Acura. By reading this article, you'll learn a great deal about this common form of maintenance. You might even be able to do it yourself.
Oil and Oil Filters
Oil is a necessary component for your vehicle to have it perform properly and at its best. Your vehicle requires oil due to the moving metal parts in its engine. These moving parts constantly rub against each other when your vehicle is in motion. Oil simply lubricates these parts in order for them to function properly without wearing them down. Because these metal parts rub against each other, they cause friction and heat. Oil helps disperse the heat and keeps these parts cool.
Your oil filter is often overlooked, but it's equally important. Over time, oil gets dirty while it's constantly lubricating the engine components. Therefore, your oil needs to be changed; the dirtier it gets, the less effective it is at doing its job. Your oil filter helps keep your oil as clean as possible by collecting the dirt and crud that gets kicked up into the oil. Without your oil filter, your engine oil would need to be replaced more frequently. Your oil filter also needs to be changed when you get new oil put into your car.
Why Your Oil and Oil Filter Need to Be Changed
You previously read that oil and oil filters need to be changed at the same time. Both these important automotive accessories get dirty, and become less effective. When your oil filter is dirty, it won't catch the dirt and crud in your oil as much. Over time, and without a replacement, your oil will fail to perform its duties properly and your engine could suffer for it. That's why they need to be changed.
The Best Oil Filter Brand for Your Acura
Considering you're driving an Acura, your best option is a Honda Genuine Oil Filter. The reason you should use this brand is because it was designed to fit perfectly with your Acura. You can drive around knowing you have the proper part for your Acura to perform at its best. 
If you need a new oil filter for your Acura, you can always order parts through us at Norm Reeves Acura of Mission Viejo. We'll even help you install it, so you can rest assured knowing your vehicle received the necessary care with the proper oil filter.
At Norm Reeves Acura of Mission Viejo, we're more than happy to help drivers from the Mission Viejo, Lake Forest, and Aliso Viejo areas. Schedule your next oil and filter change online with us today. We look forward to working with you.