Finding the right luxury vehicle to get around the Mission Viejo, Lake Forest, and Aliso Viejo areas in style isn't always the easiest endeavor. At Norm Reeves Acura of Mission Viejo, we've had a lot of drivers express their interests in the 2017 Acura TLX, but almost always, they ask how it compares to the equally popular 2017 Audi A6. Both of these stylish vehicles offer a great deal of style and features to their drivers. But when it comes down to making your decision, which vehicle do you choose?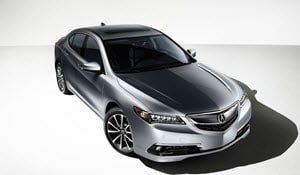 If you're unsure, that's okay, because our team is going to take a closer look at these vehicles to highlight their differences. We'll focus on the 2017 Acura TLX and the Audi A6 and compare them based on their distinctive styles, interior entertainment and technology amenities, and even safety features. Reading this comparison will help you see which luxury sedan is right for you.
2017 Acura TLX vs 2017 Audi A6 Style & Design
From a distance, these two sedans share a close resemblance. They each feature a stylish and alluring body. However, up close, their differences are more apparent.
The Acura TLX has more of an aggressive and sporty aesthetic. The front grille highlights the commanding abilities, but it also comes to somewhat of a point in the front. The Jewel Eye® LED headlights provide both fashion and function. The Audi A6 has a low-to-the-ground appearance. It features the iconic Audi grille, but due to its body style, it doesn't carry the same performance appearance as the Acura TLX.
Want to get even sportier? Check out the 2017 Acura TLX GT package.
Interior Entertainment & Technology Amenities
The Acura TLX and the Audi A6 are both outfitted with premium sound systems that deliver high-quality audio entertainment from the AM/FM radio and the CD/MP3 player. Each sedan even features an intuitive display screen, allowing drivers to access their media options. The Acura TLX features a 7-inch ODMD screen, and the Audi A6 features a smaller 5-inch MMI screen.
In terms of amenities, each vehicle features external media device access through auxiliary and USB inputs. The Acura TLX features Pandora® and Aha™ connectivity. Each vehicle features Bluetooth® connectivity, but the Acura TLX also features the SMS/MMS Text Message Reading, a feature that displays incoming text messages on the 7-inch screen.
Safety Features
Both luxury sedans are equipped with advanced airbag systems and stability and traction control to provide secure driving on slippery conditions. The Acura TLX also features Agile Handling Assist®. This feature uses the stability and traction control systems to help maintain traction during fast cornering, while assisting with understeering and oversteering. The Audi A6 doesn't feature this system.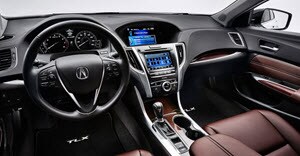 Learn more about the Acura TLX safety features in this article.
Learning More About the 2017 Acura TLX
Our team at Norm Reeves Acura of Mission Viejo hopes this comparison of the Acura TLX and the Audi A6 was helpful in showing you how these luxury sedans differ. You saw that the 2017 Acura TLX has a few advantages over the Audi A6. But if you need more information to go on, why not check out the Acura TLX in person, or even schedule a test drive?
Schedule your test drive with us at Norm Reeves Acura of Mission Viejo, the dealership that proudly serves drivers in the Mission Viejo, Lake Forest, and Aliso Viejo areas.