Welcome to the Norm Reeves Acura of Mission Viejo Safety Review library. This is where drivers like you from the Mission Viejo, Lake Forest, and Aliso Viejo area can get the best resources on the safety features of the Acura sedan or SUV that you intend to buy or lease. At our dealership, we try to be as helpful as possible to drivers who are actively researching their next car. While our vehicle reviews and vehicle comparisons can be helpful, drivers who hold safety as an important deciding factor will find these safety reviews informative and insightful.
2018 Acura MDX Safety
2018 Acura RDX Safety
2018 Acura ILX Safety
2018 Acura TLX Safety
Award Winning Safety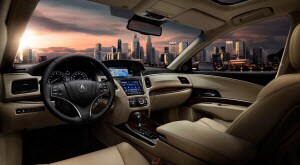 Safety is important when it comes to picking your next car. When you're researching your next vehicle, you're probably looking into the engine power and efficiency, as well as the sophisticated entertainment features. But when in an emergency situation, it's the safety features that matter the most.
These safety reviews will give you an in-depth look at the active and passive safety features found in each Acura vehicle. You'll learn all about the protective designs of your favorite Acura models, as well as the braking systems that help keep you in control of your vehicle. You'll even gain insight into the airbag systems and how they protect you and all your passengers in the event of an unforeseen collision.
In 2017 alone, the Acura ILX, TLX and RDX received a five-star safety ratings form the NHTSA. Our reviews also break down information and scoring from trusted government crash testing officials, so you're able to see what each Acura model is scored on during a collision or car accident.
How These Safety Reviews Help
When you're considering your next vehicle, you're probably doing some research. These articles can be a part of your research process because they go deeper into the specifics of the vehicle's safety. You'll learn how the different features in your preferred Acura model will help keep you safe during an emergency situation.
By doing the necessary research on your favorite Acura model's safety features, you'll learn about the different systems equipped in the vehicle. You'll also learn how they work at keeping you and your passengers protected at all times. You'll then be able to decide if the vehicle's safety features are enough to give you a peace of mind when it comes to driving on the road.
Simply look below and find your favorite Acura to learn all about its safety features.  
At Norm Reeves Acura of Mission Viejo, we're always happy to help drivers from the Mission Viejo, Lake Forest, and Aliso Viejo area learn about their favorite vehicles and the features that keep them protected when out on the road.