Acura NSX Review
Finding the perfect performance vehicle for your trips around the Mission Viejo, Lake Forest, and Aliso Viejo areas, as well as the track, shouldn't be too difficult. At Norm Reeves Acura of Mission Viejo, we want to take this time to introduce you to the impressive and stylish Acura NSX. This 2-door coupe delivers a unique mix of style, power, and efficiency. If you're looking for more information, all you need to do is keep reading.
In this article, we'll inform drivers like you of the many features and abilities of the 2017 Acura NSX. All throughout this article, you'll learn detailed information about this supercar and its many components and offerings. By learning about the Acura sports car, you'll figure out if this 2-door coupe is the right choice for you.
"The NSX looks fast even when it's standing still. It's a cliche, we know. But it fits. This car is definitely a head-turner, with its aggressive V-shaped front fascia, very narrow LED headlights and massive air inlets. Looking at the NSX from the side, the blacked-out C-pillar coupled with the placement of the side vents, make for a distinctive design feature. The door handles are flush mounted and pop out automatically."
2017 Acura NSX Exterior
As you gaze at the 2017 NSX, you'll notice that it has a commanding appearance that almost seems futuristic. The aggressive front end symbolizes the power that the vehicle produces. While the vehicle excels at performance, there are different design implementations that not only showcase the vehicle's impressive style, but add to the vehicle's abilities.
The stylish body of the NSX features several sharp and dynamic curves that visually represent the power and performance. It features seven different heat exchangers behind the front and side grilles that help keep the engine, transmission, front motors, and battery cool. On top of the hood, there are two specifically positioned vents that provide an exit for the air entering from the front grilles, only to be redistributed toward the rear intakes.
The low, wide Jewel Eye® headlights feature 6-beam LED headlights to showcase the road ahead, providing a lengthy and detailed view. The side mirrors are aerodynamic, providing better-than-average visibility while preventing air disruption. The windshield features slender pillars to add more of a panoramic view from inside the cockpit.
The 2017 Acura NSX comes standard in three colors: Curva Red, Berlina Black, and 130R White. However, you can upgrade to a suite of different paints to add to the vehicle's style. These upgrades include Source Silver Metallic, Casino White Pearl, Nord Gray Metallic, Valencia Red Pearl, and Nouvelle Blue Pearl. As far as the measurements go, this Acura sports car has a wheelbase of 103.5 inches and a length of 176 inches. As it sits, this vehicle reaches 47.8 inches in height and 87.3 inches in width.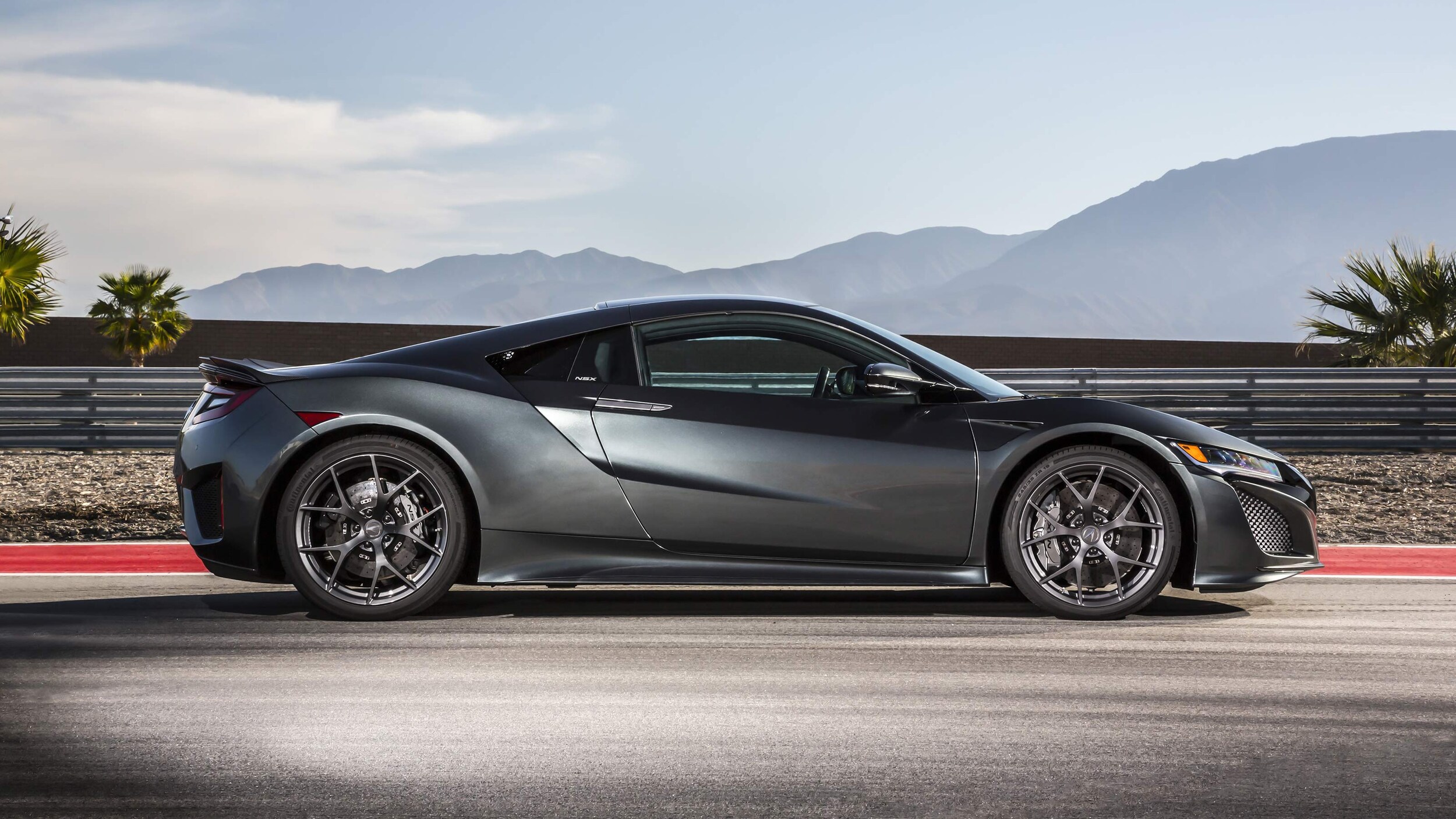 "The car looks great from the front, great from the side, and great from the rear. That's a triple threat of greatness. The entire package, made of aluminum and carbon fiber (but not that much carbon fiber), tips the scales at 3,800 pounds, and I'll explain shortly why that heft doesn't matter." 
-Business Insider 
Acura NSX Interior
While the 2017 Acura NSX certainly makes its presence known with its revolutionary design that serves as both fashion and function, it's the interior that pleases its passengers. Stepping into this vehicle is a refreshing feeling, adding a dose of sophistication and elegance. The ergonomically padded seats are outfitted with perforated leather and Alcantara trim, providing manual adjusters for passengers to find their ideal seating position. An upgrade can include a 4-way power adjuster with lumbar support, and a 2-position memory system that'll automatically adjust your seating and mirror preferences.
In terms of style, the vehicle features LED ambient lighting to highlight the sophisticated interior with its leather-trimmed steering wheel, instrument, and door panels. You have the option of choosing a carbon fiber trim for the steering wheel to give it a sportier appeal. The NSX also features a frameless automatic-dimming rearview mirror to actively adjust the reflected light coming from vehicles in your rear.
As far as space is concerned, this coupe has a 2-person passenger capacity with its 44 cubic feet of offered cabin space. The passengers get 38.3 inches of headroom and 42.8 inches of legroom. The cargo area, located behind the rear engine compartment, offers 4.4 cubic feet of space.