2018 Acura RDX vs Audi Q5
If you're seeking out the right luxury midsize SUV to help add a little sophistication and style to your adventures around the scenic roads of the Mission Viejo, Laguna Niguel, and Aliso Viejo areas, you're probably considering numerous options. The Acura RDX and the Audio Q5 fall into this category, and they're wildly popular options for this automotive class. If you're stuck deciding between the 2018 Acura RDX vs. 2018 Audi Q5, you've come to the right place.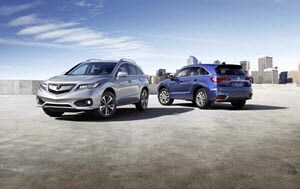 At Norm Reeves Acura of Mission Viejo, we're here to help you differentiate between these two vehicles by comparing them. We're going to look at their differing engines and performance, appearance and style, and the media and technology features. We hope that our Acura RDX vs. Audi Q5 comparison shows you the similarities and the differences so you can inform your decision and make the right choice.
2018 Acura RDX vs 2018 Audi Q5 Engines & Performance
The differences between these two vehicles start very early with their respective engines. The Acura RDX features a 3.5L V6 engine and the Audi Q5 features a turbocharged 2.0L 4-cylinder engine. Each engine features a paired automatic transmission, however, their differences in performance are pretty significant. The Acura RDX and its V6 can achieve 279 horsepower. The Audi Q5 and its turbocharged 4-cylinder engine deliver 252 horsepower, which simply trails behind the Acura RDX.
Appearance & Style
Despite being in the same luxury midsize SUV class, these vehicles don't share a common resemblance. The Acura RDX delivers a sleek style that combines the luxurious style with a remarkable performance. From the profile appearance, it's easy to spot that this vehicle is an SUV with a bit of a refinement to its overall structure. The Audi Q5, on the other hand, doesn't share the same alluring style as the Acura RDX. The Audi Q5 does offer a stylish appearance, but it doesn't really pop or stand out among its competitors. It actually resembles a hatchback that hit a bit of a growth spurt and then stunted.
Media & Technology Features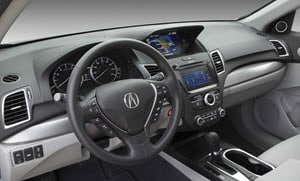 The 2018 Acura RDX and the 2018 Audi Q5 each feature radios, CD/MP3 players, Bluetooth® smartphone connectivity, and USB/auxiliary connections for portable media devices. Each vehicle features a touchscreen display that can be used to access these features. Additionally, the Acura RDX includes compatibility with Pandora® and Aha™, which boosts the media options. The vehicle even comes with a 3-month trial of SiriusXM® Satellite Radio. The Audi Q5 doesn't offer these features at the base level trim.
Acura RDX vs Audi Q5 Safety
The Acura RDX and the Audi Q5 both feature stability and traction control systems that help keep them from losing traction while navigating slick terrain. Each crossover even features special braking systems that are designed to provide ease and security when driving on hilly terrain. The Electronic Brake Distribution, equipped with both vehicles, helps with braking control by varying the amount of pressure that's directed to both the front and rear wheels.
In terms of collision protection, each crossover features advanced airbag systems to vary the amount of protection depending on the severity of the crash. Each vehicle features front airbags, side airbags, and side current airbags. However, the Acura RDX features the Advanced Compatibility Engineering™ Body Structure which features reinforced outer braces that can help absorb the force of impact and help disperse it away from the passengers inside.
Read more about the safety features found in the Acura RDX in this article.
Getting More Information on the 2018 Acura RDX
If you're considering both of these luxury midsize SUVs, this Acura RDX vs. Audi Q5 comparison probably helped you come closer to making a decision. You saw that the 2018 Acura RDX took the lead in each of these categories, but you can still learn more. Why not learn how the Acura RDX handles by hopping in and taking it for a spin?
You can schedule your test drive at Norm Reeves Acura of Mission Viejo. We're happy to help drivers in the Mission Viejo, Laguna Niguel, and Aliso Viejo make the decision that's right for them.