When it comes time to choose your next luxury midsize SUV, there are a lot of tough decisions to make, especially if you're eyeing the 2017 Acura RDX and the 2017 Audi Q3. Both of these vehicles offer a great deal to their drivers, but which one would you prefer to maneuver around the Mission Viejo, Lake Forest, and Aliso Viejo areas? If you're having trouble answering, don't worry, the team at Norm Reeves Acura of Mission Viejo is here to help.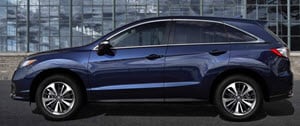 Our team is going to explore these midsize luxury SUVs further to show you what they offer, and what they lack. We'll focus on the engine power and performance, interior space and comfort, and entertainment and technology features. By reading this comparison of the 2017 Acura RDX and the 2017 Audi Q3, you'll be able to tell which vehicle is more tailored to your needs.
2017 Acura RDX vs 2017 Audi Q3: Power & Performance
Right out of the gate, these vehicles differ greatly with their respective power. The 2017 Acura RDX is outfitted with a 3.5L V6 engine and the Audi Q3 features a 2.0L 4-cylinder turbo engine. Each vehicle is paired with a 6-speed automatic transmission. When it comes to abilities, the 279 horsepower that the Acura RDX generates has more bite than the 200 horsepower delivered by the Audi Q3.
Acura RDX Interior vs Audi Q3 Interior
Both the Acura RDX and the Audi Q3 offer spacious cabins for their respective passengers and cargo. However, the Acura RDX has a commanding lead with the space offered to its passengers with 38.7 inches of headroom and 42 inches of legroom for front passengers, with riders in the back getting 38.1 inches of headroom and 38.3 inches of legroom.
The 37 inches of headroom and 40 inches of legroom in the front of the Audi Q3 is spacious enough, but the rear space is very limited with 37.4 inches of headroom and a meager 31.1 inches of rear legroom. When it comes to cargo, the Acura RDX delivers with 26.1 cubic feet of space that boosts to 61.3 cubic feet with the folded rear seat. The Audi Q3 offers 16.7 cubic feet that only maximizes to 48.2 cubic feet when the rear seat is folded down.
Entertainment & Technology
The Acura RDX and the Audi Q3 each feature a radio, CD player, and a 3-month trial subscription of SiriusXM® Satellite Radio. These vehicles also feature USB ports and auxiliary inputs for external media devices. Each vehicle features Bluetooth® technology for hands-free phone calls and audio streaming. The Acura RDX even features the SMS Text Message Function, a feature that delivers your incoming text messages to the dashboard-mounted screen.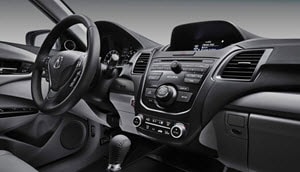 Get more information on the technology features and packages offered in the 2017 Acura RDX in this article.
2017 Acura RDX vs 2017 Audi Q3
At Norm Reeves Acura of Mission Viejo, we hope this car comparison was resourceful for your research. By now, you're probably aware of the many advantages that the 2017 Acura RDX has over the 2017 Audi Q3. If you want to learn more, come in and see the Acura RDX in person, and even give it a spin.
Schedule a test drive with us at Norm Reeves Acura of Mission Viejo, the dealership that proudly serves drivers in the Mission Viejo, Lake Forest, and Aliso Viejo areas.