When you're navigating the roads in the Mission Viejo, Laguna Niguel, and Aliso Viejo areas in a stylish and powerful Acura RDX, it feels pretty good. However, when a dashboard light starts flashing, your joy may become panic. Our team at Norm Reeves Acura of Mission Viejo is going to take the time to show you what those lights mean with the 2017 Acura RDX dashboard light guide.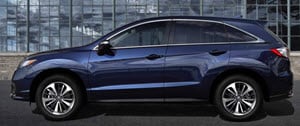 In this guide, we'll explain the different types of lights that can appear on your Acura RDX dashboard. We'll also show you what these lights mean, and what you should do if they appear while you're out on the road. By reading, you'll be prepared and will know exactly what to do.
Differentiating the Condition Indicators & Malfunction Indicators
Your dashboard features two types of lights: condition indicators and malfunction indicators. Condition indicators aren't major warnings, but they do require you to perform an action that'll correct the issue. Malfunction indicators, on the other hand, can vary in their severity. Some lights will flash, and you should immediately pull over to safety to prevent further damage to your vehicle.
2017 Acura RDX Condition Indicators
Parking Brake: If you've forgotten to release your parking brake, this light will appear, along with an audible beep, until you disengage the brake.
Seat Belt Reminder: This light will appear if you've forgotten to buckle your seatbelt. If you don't buckle, an audible chime will begin to beep.
Door/Tailgate Open: This condition indicator will pop on if you haven't closed a door or your tailgate all the way. When it's safe and convenient, pull over, and ensure that the problem is corrected.
Low Tire Pressure: This light detects when one or more of your tires is low on air and requires a fill-up. Stop in a safe area to check your tire pressure and inflate them, if required.
2017 Acura RDX Malfunction Indicators
Brake System: When this light appears, it means that either your brake fluid is low, or there's a malfunction with your brake system. Check the pedal to gauge the pressure. If it feels abnormal, immediately pull over to safety and contact your Acura dealer.
Low Oil Pressure: If you see this light appear, you should pull over to safety and check the oil level in your Acura RDX and add oil, if required. However, if the light doesn't go away, you should contact your Acura dealer immediately. 
Charging System: When this light pops on, it means that your battery isn't getting a charge. Be sure to turn off all your unnecessary electrical equipment to see if you can make it to a service station or your Acura dealer for repairs.
Electric Power Steering: If your Electric Power Steering is malfunctioning, this light will come on. Pull over to safety immediately because you won't be able to maneuver your vehicle safely. Contact your Acura dealer right away.
2017 Acura RDX Service
If you ever experience a malfunction indicator appearing on the dashboard of your Acura RDX, you can always contact us at Norm Reeves Acura of Mission Viejo. We're always happy to help our drivers in the Mission Viejo, Laguna Niguel, and Aliso Viejo areas.