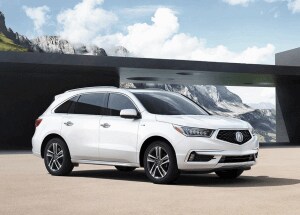 The 2017 Acura MDX and the 2017 Volvo XC90 are two vehicles that are well-loved by families in the Mission Viejo, Lake Forest and Aliso Viejo areas who are looking for quality, performance and advanced technology. But when you take a close look at the two vehicles side-by-side, you'll notice some pretty substantial differences between the two luxury vehicles.
For your convenience, we've prepared this 2017 Acura MDX vs. 2017 Volvo XC90 vehicle comparison. Check it out now, then schedule a test drive of your favorite at your local car dealership.
In Seating Capacity, the Acura MDX Excels
If you have a family with more than 3 children, or you'd like your 2 kiddos to bring a friend each on your next family vacation, then you'll definitely want to consider the 2017 Acura MDX over the 2017 Volvo XC90. While the Volvo is an excellent vehicle, it lacks the option of a third row seat, maxing out the vehicle's seating at just 5 passengers. 
On the other hand, the 2017 Acura MDX offers seating for up to 7 passengers with the optional third row seat. In addition to being able to bring a friend each on vacation for a family of 4, your kiddos will also get to share their own row with their friend, meaning they can bring along all of their gear without losing out on valuable leg space. 
Speaking of room to spread out, the 2017 Acura MDX also offers 41.4 inches of leg room in the front seat and 61.1 inches of front shoulder room. That means you'll get an extra 0.5 inches of extra leg room and 3.4 inches of extra shoulder room in the front seat of the MDX over the XC90. That's a huge deal in terms of comfort on long road trips or even just the morning commute.
Standard Power is Exceptional in the 2017 MDX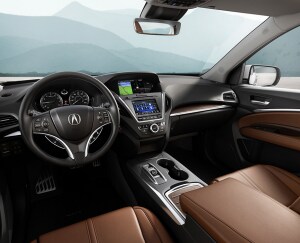 The 2017 Acura MDX offers a standard 3.5 Liter V6 engine that produces 290 horsepower and 267 lb-ft of torque. Paired with the standard 9-speed automatic transmission, you'll quickly go from zero to hero in the Acura MDX. The 2017 Volvo XC90's standard engine pales in comparison. The 2.0 Liter 4-cylinder turbo engine maxes out its power production at just 250 horsepower and 250 lb-ft of torque. And with the 8-speed automatic transmission, you'll have to drive pedal-to-the-metal to even get close to the speed of the MDX. But even with all of the power in use, the vehicle still can't outcompete the newly improved Acura MDX.
Schedule a Test Drive at Norm Reeves Acura of Mission Viejo
If you're ready to experience all that the 2017 Acura MDX has to offer, stop in to Norm Reeves Acura of Mission Viejo and see the vehicle for yourself. In addition to a stock of the MDX, we also offer a huge selection of new Acura vehicles for you to choose from, both from the 2016 and 2017 lineup right now. 
When you're ready to start shopping for your new Acura vehicle, let us help you get behind the wheel of the vehicle that meets all of your wishes and demands. Schedule a test drive online now of the 2017 Acura MDX and you'll see exactly why the vehicle is so popular for drivers of Aliso Viejo, Mission Viejo and Lake Forest. Contact us online today for more information.