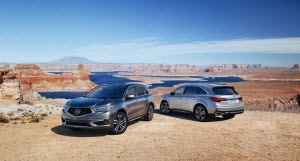 There's nothing quite like getting around the Mission Viejo, Lake Forest, and Aliso Viejo area in a luxury SUV like the Acura MDX. Local drivers have enjoyed the Acura MDX for its impeccable style and performance. However, other drivers in the area consider the Lexus RX 350 as the top luxury SUV on the market. But where do you weigh in on this?
Well, we decided to see for ourselves by taking a closer look at the 2017 Acura MDX and the 2017 Honda Pilot. We'll be closely examining each vehicle in terms of power and performance, interior technology and entertainment, and safety features. By reading this vehicle comparison, you'll see which of these luxury SUVs is right for you. 
2017 Acura MDX vs 2017 Lexus RX 350 Power & Performance
When it comes to engineering, both the 2017 Acura MDX and the Lexus RX 350 are equipped with respective 3.5L V6 engines. On the road, each of these SUVs can easily hit 290 horsepower. The real difference with these vehicles is their transmissions. The Acura MDX is paired with a nine-speed automatic transmission, offering an additional gear ratio than the eight-speed automatic featured in the Lexus RX 350. 
Acura MDX Interior vs. Lexus RX 350 Interior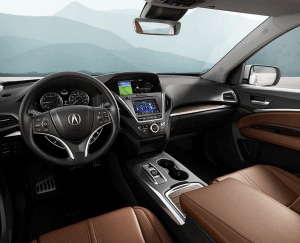 Both SUVs feature an intuitive touchscreen display mounted in their dashboards. These sophisticated systems can be used to access the offered media options like the radio and the CD player, which has the ability to read and play MP3 and WMA format audio files. Both vehicles even come with a three-month trial subscription of SiriusXM® Satellite Radio, providing the driver and passengers with more than 150 different stations of audio entertainment. However, the trial featured in the Acura MDX offers Advanced Audio. This addition lets you replay songs and scan the radio while listening to each song from its beginning, without cutting in the middle while switching stations. 
Safety Features
In terms of passenger protection, each vehicle is equipped with advanced airbag systems. These systems will measure the severity of impact and adjust their inflation rate accordingly to compensate for the force of the collision. Both SUVs feature front airbags, side-impact airbags, and side curtain airbags.
Each of these SUVs come standard with a few driver-assisting technology features that are designed to help you avoid collisions through notifications and alerts. Both vehicles feature front and rear sensors to inform you of an impending collision. The Acura MDX also features Adaptive Cruise Control, which is a system that allows you to set a speed as well as distance from the driver ahead. This system will keep that safe distance, even when traffic ahead slows down. 
Take a Test Drive
In this car comparison, drivers all across the Mission Viejo, Lake Forest, and Aliso Viejo area learned about the similarities and differences between the 2017 Acura MDX and the 2017 Lexus RX 350. You saw that while both vehicles offer a substantial deal of helpful and fun features, it's the Acura MDX that offers you more. Learn more about the Acura MDX by taking it out for a spin. 
Schedule your test drive with us at Norm Reeves Acura of Mission Viejo.
See how the 2017 Acura MDX compares to the 2017 Audi Q7 in this car comparison.