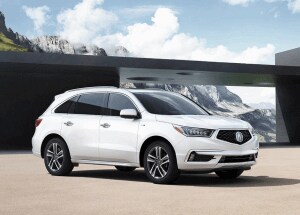 If you've decided that the 2017 Acura MDX is going to be your next car to get you around the streets of the Mission Viejo, Lake Forest, and Aliso Viejo area, you've made a wise choice. However, your decision making isn't over yet. You'll need to consider the different packages that can allow you to tailor your Acura MDX to fit your needs as a driver.
To help you figure this out, we're going to give you better insight into the different packages offered with the 2017 Acura MDX. We'll go over the Acura MDX Advance Package, Entertainment Package, and the Technology Package. By learning about what these different packages feature, you'll be able to decide which one is right for your Acura MDX.
Advance Package
The Acura Advance Package offers a variety of different features to boost your comfort and convenience. This package features captain's chairs for second row passengers. These seats are also designed with perforated Milano leather with contrast stitching and piping, which highlights the classy aesthetic of the natural wood accents featured in the vehicle.
This package also includes front and rear parking sensors. These sensors inform you of your proximity to objects around your vehicle, so you can alter your angle accordingly. The Surround View Camera is also included with the Advance Package. This feature provides you with a 3600 view to help you maneuver the vehicle more securely and efficiently.
Entertainment Package
The Entertainment Package can actually be combined with either the Technology Package or the Advance Package. When you combine this package with the Technology Package, you get a nine-inch Full VGA screen that allows you to access your media preferences. It even includes an 11th speaker to help improve the surround sound of your Acura MDX.
If you choose to combine this package with the Advance Package, you get the 16.2-inch Full VGA screen. This screen also has split-screen capability, allowing you to display your audio information and vehicle information. This package also includes a 12th speaker, adding to the surround sound system.
Technology Package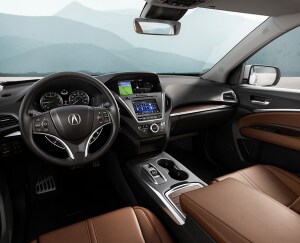 The Acura MDX Technology Package provides you with a load of features that add a layer of convenience to your driving. This package includes the Acura Navigation System with 3D view, HD Traffic™ and Traffic Rerouting, which will aid you when delays are expected by providing you with alternate routes. This system will save you time while providing you with directions towards your destination.
As for entertainment, this package includes the Acura/ELS Studio™ Premium Audio System with 10 speakers. You get all the standard entertainment amenities, but with the addition of HD Radio™. This radio lets you listen to standard AM/FM stations, but at a much higher sound quality. This package also includes a Voice Recognition System that lets you use your voice to access the navigation, audio, climate control, and even your Bluetooth® system. 
Pick Your Acura MDX Package
In our article, drivers from the Mission Viejo, Lake Forest, and Aliso Viejo area learned all about the different packages that are offered with the 2017 Acura MDX. You learned all about what these packages features. If you're looking for more information about these packages, you can always contact us at Norm Reeves Acura of Mission Viejo.