Acura MDX Maintenance Schedule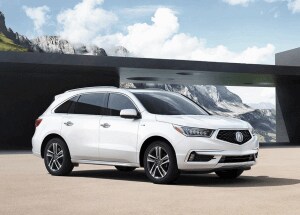 When you want to keep your Acura MDX in great shape and performing at its best throughout the Mission Viejo, Lake Forest and Aliso Viejo area, you'll need to stay on top of your maintenance schedule. Regularly scheduled maintenance not only keeps your vehicle up-to-date on its services, but it's a great way to stay ahead of any automotive issues that could cost you if they're not corrected early on. To help you keep your vehicle in great shape, we're going to show you the Acura MDX maintenance schedule.
Understanding the Acura MDX Maintenance Minder System
Your Acura MDX features the Maintenance Minder system. This system uses the on-board computer to check levels and components to make sure that they're in working order. The Maintenance Minder will display a code that will indicate a specific service that you'll need to have performed on your vehicle. In this maintenance schedule, we'll be segmenting your services by mileage. Whenever your vehicle adds that mileage to your odometer, you'll need to have those services repeated.By keeping up with your maintenance schedule, your vehicle will run as smoothly as it did the day you drove it home.
Acura MDX Maintenance by Mileage
4,000 to 9,000 Miles: At this visit, you'll need to have your oil and oil filter replaced (Code A). You'll also need to have your tires rotated (Code 1). 
7,500 to 20,000 Miles: This specific service interval will involve the vehicle road test. This requires a variety of inspections, including your fluid levels and conditions, braking system, suspension components, drive shaft boots, fuel lines and connections, and your exhaust system (Code B). 
15,000 to 30,000 Miles: During this visit, you'll need to have your engine air filter and your cabin pollen filter replaced. You'll also need to have your drive belt inspected for cracks, splits or fraying (Code 2). Your rear differential fluid should also be replaced during this time (Code 6). 
20,000 to 40,000 Miles: When you go in for service during this mileage interval, you'll need to have your automatic transmission fluid and your transfer fluid replaced (Code 3). 
75,000 to 105,000 Miles: During your higher mileages, you'll need a variety of equipment replaced and inspected. You'll need to replace your timing belt, drive belt, timing belt auto-tensioner, water pump, spark plugs and have a coolant service performed (Code 4). You'll also need to have your engine coolant replaced around this time (Code 5). 
Schedule Acura MDX Maintenace
By following this maintenance schedule, you'll have your vehicle perform at its best. You'll also be aware of any issues that will need to be serviced during a future visit to ensure that everything under the hood is working properly.
Drivers in the Mission Viejo, Lake Forest and Aliso Viejo area who need to have maintenance performed on their Acura MDX can always contact us at Norm Reeves Acura of Mission Viejo and schedule a service appointment. Our Service Department and skilled technicians are here to help you keep your vehicle up to speed for many years and miles.