When you're shopping for a new vehicle, it's likely that you have a few questions about the automobile at the top of your list. At Norm Reeves Acura of Mission Viejo, we aim to provide you with helpful answers to all your inquiries about the Acura MDX.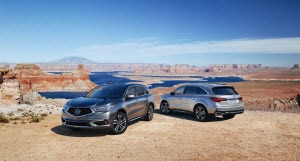 That way, drivers of Mission Viejo, Laguna Niguel, and Aliso Viejo can learn more about this impressive SUV. Take a look below at the most common questions asked about the Acura MDX to see if your query is included!
Is the Acura MDX a 7-seater?
Yes, the 2017 Acura MDX can accommodate up to seven passengers. If the second row is equipped with bench seating, it can easily fit three passengers. When combined with the driver, front passenger, and two passengers in the third-row, your Acura MDX can expertly transport seven people.
Are Acura MDX SUVs All-wheel Drive?
The 2017 Acura MDX includes optional Super Handling All-Wheel Drive. This intelligent torque-vectoring system transmits power to select wheels based on how this vehicle is handling the road. By monitoring driver input, weight distribution, and traction, your Acura MDX will remain stable during any weather condition.
Where Is the Acura MDX Spare Tire?
All 2017 Acura MDX vehicles are equipped with a Tire Sealant and Repair Kit. If you own an Acura MDX that's outfitted with SH-AWD, then you'll find the spare tire underneath the floor of the trunk.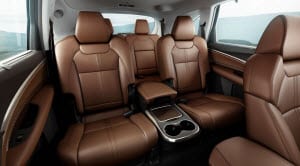 For models that don't include all-wheel drive, you can locate your tire repair kit by lifting the handle on the cargo area floor lid and opening it. From there, you'll remove the cargo floor box, take the kit out of the case, lay the kit flat on the ground, and follow the instructions located in the container.
Which Gas for Acura MDX?
If you want your Acura MDX to function at its best, it's recommended that you use Premium Unleaded 91-Octane fuel. When you use premium fuel, the engine better manages combustion and is less likely to malfunction. That way, you can feel confident that your SUV will continue to soar along the road.
Which Oil for Acura MDX?
To keep all parts of your Acura MDX running smoothly, only the best oil should be used. For this SUV, the recommended oil is either genuine Acura motor oil or premium-grade 0W-20 detergent oil with an API certification seal on the container.
Other oil can be used, but the bottle should still be embellished with an API certification seal and have the same viscosity grade of the oils mentioned above. By taking your Acura MDX to a trusted Acura service center, the mechanics will happily perform maintenance and use the appropriate oil for your car.
Remember, scheduling routine maintenance appointments is the only way to ensure that this SUV continues to soar along the road without a hitch!
Send Us Your Acura MDX Questions!
Still have an inquiry that wasn't addressed on this page? No problem! All you need to do is contact our knowledgeable representatives at Norm Reeves Acura of Mission Viejo.
We'll gladly provide drivers of Mission Viejo, Laguna Niguel, and Aliso Viejo with any additional information you're looking for. That way, you can decide if the Acura MDX is perfect for your lifestyle.