After much consideration, you've decided you want the 2017 Acura MDX as your mode of transportation to get you around the Mission Viejo, Lake Forest, and Aliso Viejo areas. But you still have some decisions to make. You've probably browsed the various packages and trims that can come with the vehicle, but have you taken time to consider what color you want for your new SUV? It's an important decision because your vehicle is an extension of you, and the color is the first thing people will notice.
In this article, we're going to explore the various colors offered to help add a little extra style and zest to your Acura MDX. By reading this review, you'll get a good sense of what your new car will look like. You'll also save yourself a great deal of time for when you go in to see the vehicle in person.
2017 Acura MDX: Exterior Colors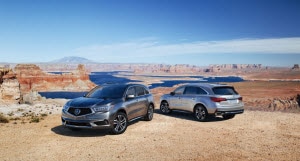 The 2017 Acura MDX comes in seven different colors. The Black Copper Pearl offers an almost burgundy look with a sleek shine. The Acura MDX in Crystal Black Pearl adds a little mystery to its elegance. It's not your typical black SUV, and the exterior color flawlessly blends in with the tinted windows.
The 2017 MDX in Dark Cherry Pearl is a luscious red with a brownish tone to deepen the dark cherry aesthetic. The Fathom Blue Pearl isn't your run-of-the-mill blue. It's a darker shade with what appears to be a touch of purple to deepen its restrained look.
If you're looking for something stylish with a sophisticated and almost futuristic look, the Lunar Silver Metallic exterior color of the Acura MDX might be the one you're looking for. This color isn't your average silver because it's milder in tone, almost ash-like, which provides a crisp and clear definition that highlights the dynamic front end. The Modern Steel Metallic falls somewhere on the gray scale, but not in the gloomy sense. It's a soft dark steel color that's only made more appealing by the metallic finish.
If you're the type of luxury SUV driver that loves a clean and sleek look, the 2017 Acura MDX in White Diamond Pearl is the color for you. It has a crisp and creamy tone that offsets the black grille and tires. It's not overly bright, as most white SUVs are. Instead, this color is rich but modest in tone.
Which Acura MDX Color Will You Choose?
Now that you've read about the many colors that the 2017 Acura MDX comes in, you're ready to take the next step in fitting it with the features or packages you're most interested in. We told you about the Black Copper Pearl, Crystal Black Pearl, Dark Cherry Pearl, Fathom Blue Pearl, Lunar Silver Metallic, Modern Steel Metallic, and White Diamond Pearl. Reading about colors isn't the same as seeing them in person. Stop by and check these colors out for yourself at Norm Reeves Acura of Mission Viejo, or contact us online for more information. 
At Norm Reeves Acura of Mission Viejo, we're always willing to go the extra mile for our drivers in the Mission Viejo, Lake Forest, and Aliso Viejo areas.