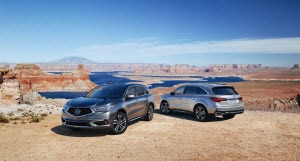 If you're looking to take your vehicle out beyond the Mission Viejo, Lake Forest, and Aliso Viejo area for a nice getaway or vacation, you'll need a vehicle with enough cargo space. The Acura MDX offers a great deal of cargo space, as well as impeccable style and remarkable performance. However, does it have enough room for you, your family, or your luggage?
In this guide, we'll give you a glimpse at the interior of the Acura MDX. We'll focus on passenger space and cargo space. By reading this article, you'll know if the 2017 Acura MDX has what it takes to carry your cargo.
Acura MDX Cargo Space
Midsize SUVs are known for offering an outstanding deal of space, which can easily be adjusted to compensate for passengers or cargo. The Acura MDX offers 15.8 cubic feet of space when all three rows of seating are in place. The third row is a 50/50 split, while the second row is a 60/40 split, unless you opt for the captain chairs with the Advance package, which features a 40/40 split.
When you fold the third row down, you can increase your Acura MDX cargo space to 43.4 cubic feet while having enough room for you and four other passengers. If you need as much space as possible, you can fold all the rows down to increase your cargo space to an impressive 90.9 cubic feet. You can even keep smaller materials in the hidden cargo storage with the smart lid, which slides open when you need to access the materials. 
2017 Acura MDX Passenger Space
The interior of the Acura MDX opens up with 152.7 cubic feet of space. This midsize SUV is equipped to carry seven passengers, or six passengers with the Advance package and the second row captain's chairs. You and your front passenger get 38.1 inches of head room and 41.4 inches of leg room. The second row passengers are offered 38.3 inches of head room and 36.6 inches of leg room. As for third row passengers, they get 35.6 inches of head room with 28.1 inches of total leg room.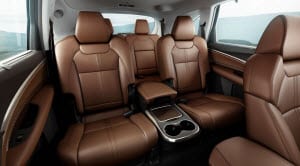 As the driver, you can easily find your comfort with the 10-way power adjustable seat with lumbar support. Luckily, this seat features the Two-Driver Memory System. This system will remember your seating and mirror preferences so you can easily adjust the seat without having to fiddle with the adjustment buttons. This is a benefit if you share driving duties. This memory system will also remember your climate and audio preferences. 
Learn More About the 2017 Acura MDX and Its Space
In this guide, we gave drivers from the Mission Viejo, Lake Forest, and Aliso Viejo area a little insight into the interior space of the 2017 Acura MDX. You learned all about the passenger space. You also saw how you can adjust your Acura MDX cargo space to accommodate for your luggage and materials.
Do you wish to learn more about the 2017 Acura MDX? Contact us at Norm Reeves Acura of Mission Viejo.