Drivers across the Mission Viejo, Lake Forest, and Aliso Viejo areas know that vehicles are becoming more technologically advanced and are now capable of amazing feats. Nothing could be truer with AcuraLink The Next Generation. This amazing service adds convenience, entertainment, and assistance in one cohesive system that'll take your driving to the next level.
If you're on the fence about taking a step toward the future, we'll help you decide if you'd like to add this feature to your Acura. We'll carefully explain what AcuraLink The Next Generation is and what it does. You'll then be able to decide if your vehicle needs this impressive and helpful feature.
What is AcuraLink The Next Generation?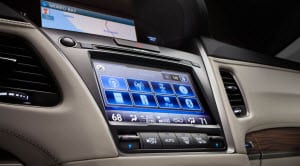 AcuraLink The Next Generation is a sophisticated subscription-based infotainment system that delivers a great deal of features and amenities. It's an upgrade from the standard navigation and connectivity systems that drivers have grown accustomed to over the years. It essentially brings your vehicle online and syncs it with cloud-based services. It brings your vehicle to the palm of your hands.
What Can AcuraLink The Next Generation Do?
This system can do a great deal for you. The Traffic and Navigation system delivers you real-time traffic updates while you're heading to your destination. It shows your GPS location while providing you with turn-by-turn directions and alternate routes. Getting to new destinations has never been easier.
AcuraLink The Next Generation also takes media streaming to the next level. It uses Aha to bring you a variety of audio entertainment. You can stream music from your apps or cloud library. You can stream news, podcasts, and audio books to add a little extra entertainment to your commute. You can even receive real-time Twitter and Facebook updates. This system keeps you connected wherever you are.
Helpful Features and Assistance
The My Vehicle app gives you an instant connection from your smartphone to your Acura. You can use this app to check out your vehicle's diagnostics. You can easily check your remaining fuel or tire pressure. This system also notifies others if you need help. The Automatic Collision Notification will send an alert to emergency services to come and assist you.
This system can also assist with finding your car. If you park at a large lot at a concert or sporting event, it can be tough to track down your car. This feature helps you find your vehicle with ease. You can also use this feature to remotely unlock your doors.
AcuraLink The Next Generation features a concierge service to help plan your evening. You can use this feature to make restaurant reservations or check movie times. You can plan your night out on the town while en route. 
Take a Step toward the Next Generation
By reading this article, drivers like you from the Mission Viejo, Lake Forest, and Aliso Viejo areas learned all about AcuraLink The Next Generation. You learned all about the impressive capabilities of this system that can add entertainment and convenience to your driving.
Learn more by contacting us at Norm Reeves Acura of Mission Viejo.