Tustin, CA, is an ideal city to start a family in. While it features quiet and picturesque streets, it offers the convenience of a big city with its various assortment of markets, shops, and eateries. However, the best way to experience Tustin and all of its offerings is by car, so if you're looking for a new vehicle that provides you with a great deal of performance, efficiency, and style-you might want to start looking for an Acura dealer near Tustin.
Of course, you could spend countless hours looking for an Acura dealership near Tustin, but you don't have to look any further than Norm Reeves Acura of Mission Viejo. The fantastic thing is, even though we're a short distance away, you don't have to leave Tustin just to get a glimpse of what we have in stock.
Acura Cars near Tustin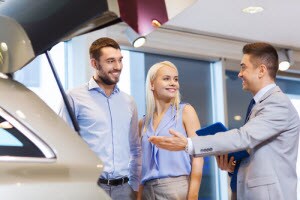 If you're looking for an Acura to drive around Tustin, you can start your search by visiting our website. While getting comfortable in your own home, you can easily browse our inventory to get started on your journey. You'll see impressive models like the Acura RDX, the Acura TLX, and the popular Acura MDX, which are just a few of the many models that we currently have on our lot. 
Making the Best Decision
As a Tustin, CA, Acura dealership, we try to help our drivers as much as possible in helping them find the vehicle that's suitable for them. That's why we have an entire library of research materials that we encourage our guests to use to help them find the model that's right for them. By reading one of our Acura reviews, you'll learn a great deal about your favorite Acura model in terms of what it comes with, and what it can do when out on the road.
Our car comparisons are extremely valuable in helping you decide between different vehicles. You'll see how the Acura model you're interested in measures up to similar vehicles from different automotive brands. You'll learn about how these vehicles compare in performance, amenities, style, and safety. Then, you'll be able to make an informed decision towards your next car.
Acura Service Tustin, CA
If you notice any problems when driving your Acura in Tustin, you can always schedule an appointment with our Service Department. Our facilities are stocked with state-of-the-art equipment that our certified technicians use to help you bring your vehicle back to working order and ready to face the open road. By keeping up with maintenance, you can actually prolong the lifespan of your Acura, so you can continue to enjoy driving it around the streets of Tustin for many years.
Tustin, CA Acura Dealership
Norm Reeves Acura of Mission Viejo is located at 28802 Marguerite Pkwy in Mission Viejo. Getting from Tustin to our Acura dealership is really easy. You can start by heading south on I-5 and taking exit 85 for Avery Pkwy. Make a left on Avery Pkwy and then turn right onto Marguerite Pkwy. You'll see our dealership on the right.