Los Angeles is one of the most popular cities in the entire world due to its beautiful cityscapes, warm weather and the entertainment industry. However, getting around to see the sights of "La La Land" can be tricky if you don't have a vehicle. Of course, you can always take the metro system, but wouldn't you rather experience the City of Angels in your own car? Don't worry, you don't have to scan the entire city to find what you're looking for, because Norm Reeves Acura of Mission Viejo is here to help.
New Acura Cars Los Angeles
You don't have to leave beautiful LA just to start finding your new Acura at Norm Reeves Acura of Mission Viejo. All you need is a computer and some determination. From your own home, you can comfortably browse our entire inventory. You can take a peek at models like the spacious Acura MDX, the stylish Acura TLX, or the efficient and reliable Acura RLX. You can view all of these models and more on our website.
Acura Research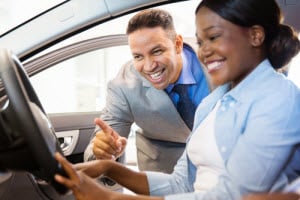 As an Acura dealer near Los Angeles, we feel it's our duty to supply our customers with the necessary tools to help them find the Acura vehicle that's right for them. Finding the right car is a major decision, and it's a decision that we want you to be prepared to make. That's why we have an extensive library of research tools that you can use to help you find your next vehicle.
If you're looking to learn more about your favorite Acura models, simply check out our vehicle reviews. These comprehensive articles give you all the important details that you need to know. You'll learn about the vehicle's abilities, the comfortable interior, the sophisticated entertainment system and even the safety features. By reading these reviews, you'll be able to learn which Acura model is right for you.
Los Angeles Acura Staff
When you're trying to find the right Acura dealer near Los Angeles, one of the most important aspects of your experience is great customer service. Our approach is to help our customers in any way that we can by providing helpful assistance in a fun and relaxing atmosphere. We want you to look forward to the car buying experience.
When you arrive, a member of our team will guide you around our lot and showroom to give you a better glimpse at the latest Acura models in our inventory. When you find one that excites you, we'll put you right in the driver's seat so you can take the vehicle out on the open road. The test drive is not only the most fun part of the process, but it allows you to learn so much about the vehicle with a hands-on approach. As an Acura dealer near Los Angeles, nothing makes us happier than helping our drivers find the car that's perfect for them. 
Stop in Norm Reeves Acura of Mission Viejo-the dealership that proudly serves drivers in Los Angeles.Contact us online today for more information. We look forward to speaking with you!