Welcome to the Acura dashboard light guide library. Here drivers from the Mission Viejo, Lake Forest, and Aliso Viejo area will be able to find more information about those interesting little symbols illuminating behind the steering wheel. If you have any questions, contact us at Norm Reeves Acura of Mission Viejo.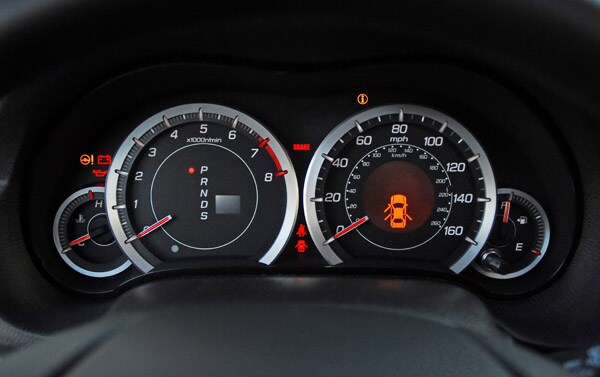 Acura Dashboard Light Guides: 
Acura ILX Dashboard Light Guide
Acura TLX Dashboard Light Guide
Acura MDX Dashboard Light Guide
Acura RDX Dashboard Lights Guide
Acura RLX Dashboard Light Guide
Acura TL Dashboard Light Guide 
The Importance of the Dashboard Lights
The warning and indicator lights on the dashboard of your Acura serve an important purpose. They can notify you when a particular system or function is activated or when a major malfunction has occurred.
Because some dashboard lights can indicate a potential problem, it's vital for drivers to know and understand what each light means. Then, not only will you be sure to get prompt service and avoid further damage, you'll also be a better, safer driver.
How to Use the Dashboard Light Guides
Our guides to the Acura dashboard lights were designed to be as user friendly as possible. The structure and layout were optimized so you can find the light you need quickly and take action accordingly.
Simply click on the Acura model that you drive to open correct the dashboard light guide. The name of the lights will be listed with corresponding descriptions to help you make sure that you're reading the right one. Following the description of the light will be an explanation of what it means and what action should be taken.
Can't Find the Correct Guide or Light for Your Acura?
We're constantly adding new light guides to our library, but we understand that the specific light or Acura model you're looking for may not be listed yet. In that case, you should call our service department as soon as possible to, at the very least, find out if the light indicates a critical malfunction.
You won't be required to schedule a service appointment just because you called. Although if you'd like to, we'd be happy to help. The bottom line is that, at Norm Reeves Acura of Mission Viejo, we want to make sure that our customers from Lake Forest to Aliso Viejo and beyond are safe when they're behind the wheel.