At Norm Reeves Acura of Mission Viejo, we're always helping our drivers in the Mission Viejo, Laguna Niguel, and Aliso Viejo areas make the right decision by pointing out what makes Acura models great. From the expert craftsmanship underneath the hood to the impeccable safety features, we encourage our drivers to learn exactly what they're getting when they choose an Acura model. But considering that Acura models are highly rated from both consumer websites and organizations, we figured we'd delve in a little deeper to give drivers like you a little more insight. That's why we have this Acura Awards & Accolades page!
Learning More About Your Acura
Whether you're the current driver of an Acura, or you're considering getting one as your next car, there's always a lot to learn. Our Acura reviews and car comparisons can be helpful in showing drivers a great deal about the engine performance, interior style, sophisticated amenities, and safety features. However, drivers who are cautious about their vehicle purchases tend to do the extra research to see how others feel about the vehicle.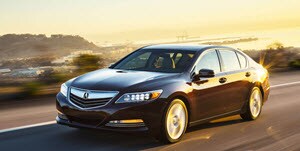 There are plenty of vehicle reviewers and automotive bloggers out there who are more than happy to share their insight, but sometimes, drivers need something more official. They look toward sites like Edmunds, Kelley Blue Book, and U.S. News & World Report for a better idea of what the vehicles offer and how they're perceived by drivers. They even look to places like the Insurance Institute for Highway Safety and the National Highway Traffic Safety Administration to see how a vehicle's safety stands up to rigorous crash tests.
Acura Awards
The Acura awards pages help by streamlining the process of researching your vehicle. We gathered all the information about specific models and put them on these pages so you can save yourself the countless hours of searching each individual site for their opinions and ratings of the models. These pages showcase the many awards that these Acura models have won. You'll get to see all the praise and accolades that your favorite Acura model has received so you can be certain that it's the right choice for you.
To get started, just look for the Acura model that you're interested in that's on this page, click, and learn all about how these organizations have rated it. Then, you can determine if you want to take the next step by experiencing the vehicle yourself.
Norm Reeves Acura of Mission Viejo is always happy to provide helpful information to drivers in the Mission Viejo, Laguna Niguel, and Aliso Viejo areas. If you want more information, feel free to contact us today.
Acura RDX Awards