The 
2015 Acura TLX
 is a sedan that combines Acura's TL and TSX models into one. The TLX was first shown to audiences at the 2014 Detroit auto show in prototype form. It is scheduled to hit automobile dealership lots in the summer of 2014.
Acura TLX Exterior
The 2015 TLX's exterior features are similar to those of Acura's RLX sedan, as it sports large, caricature-like fenders, a giant front end chrome grille, 20 inch wheels and plentiful "jewel eye" style LED lighting beneath the side mirrors and headlights. When you turn on your turning blinker, the lights will illuminate around the mirror's edge to make it clear to all of your fellow drivers that you are turning.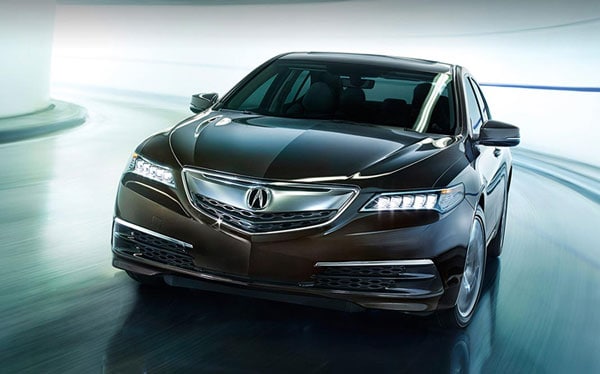 2015 Acura TLX Specs
The base 2015 TLX has a four-cylinder engine with 2.4 liters, 185 horsepower, direct injection and variable valve timing. The sedan has a sport style 8-speed dual clutch transmission with torque conversion. You can upgrade the TLX engine with a V6, 310 horsepower, 3.5 liter that is connected to a 9-speed automatic transmission. Both front wheel and all-wheel drive is offered. Buyers who desire all-wheel drive will have to
upgradeto the V6 engine
. Like the Acura RLX model, the front wheel drive TLX will be able to steer the rear wheels by way of actuators. The all-wheel drive model has enhanced torque vector controls to enable sharp and precise cornering. The 2015 TLX certainly has a sporty feel to it which is magnified by the special four mode driving system called the Integrated Dynamics System. The four available modes are Normal, Econ, Sport and Sport Plus. This technology enables the driver to control throttle response, shift mapping, electrical energy, the four wheel driving system and steering weight for optimal driving performance and comfort. Early TLX test runs have left drivers quite satisfied with the vehicle's precise controls, smooth ride and overall fun factor. The 2015 Acura TLX has the spirit of a sports car while carrying the luxurious elegance of an upper end sedan. This is one of Acura's best vehicles and could possibly even become its all-time top seller when the dust settles.
2015 Acura TLX Interior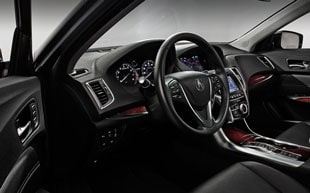 The Acura TLX interior boasts soft touch materials, upgraded AcuraLink entertainment. The TLX provides cutting edge automobile technology at an affordable price.
Acura TLX Safey
The '15 Acura TLX sits on a wide, 109.3 inch wheelbase. It is spacious enough to seat up to five adult passengers. They'll ride peacefully and comfortably as the TLX has active noise cancellation that is specially designed to reduce road noise. The TLX has plenty of safeguards including blind spot monitoring, adaptive cruise control, low speed follow, a collision mitigating braking system, a forward collision warning system and a lane departure warning system.
Review the 2015 Acura TLX in Person
Handling is enhanced through the 2015 Acura TLX's special Precision All-Wheel Steer technology. Acura has taken nearly every possible precaution to prevent TLX drivers from encountering dangerous situations on the road. This is one of the safest used cars available on the market. Though specific fuel economy numbers have not been officially released by Acura, the automaker estimates that the TLX will top the sedan segment in the category.